At 8:15am Wednesday morning I was staggering blearily about the house, trying to remember which way was up and whether I had already had a cup of tea and needed another, or was just gasping for my first. It was somewhat early for me to be getting up, and I had not slept very well, so I was even less functional than I normally am in the morning.
Geoff had been up for ages, as usual, and the dogs were leaping about, hoping that the weather would soon be dry enough for them to play outside. Min is a princess who does not like to get her delicate paws wet. Poppy loves the water, but cannot persuade Min that it is fun, so she wanders about forlornly on her own for a few minutes, and then comes back in for a shake.
The porridge revolved slowly in the microwave while Geoff and I checked and double-checked our documents.
Passports? Yes
Residencias? Yes
Proof of payment of deposit paid last week? Yes
Certified copies of family trees, back even unto the seventh generation? Yea, verily.
The deposit slip was not stamped and signed by anyone, and was not in triplicate, so we decided we would take it back to the bank and ask them to retrofit an official stamp. You can never be too careful.
Clearing a space among the papers, we sat down to eat our porridge. I had another (my first?) mug of tea primed and ready to go.
An asthmatic, strangled noise came from the next room. Not quite a cough, not quite a croak. Both the dog of the blog and the tiny terror were devotedly peering through the glass table at us and our porridge, so it wasn't either of them.
We looked at each other, slightly baffled. There it was again. The death throes of a particularly ham actor, or the sound of something having its larynx crushed made us pause, spoons halfway to our mouths. Then we realised what it was: Doodle Doo's voice is breaking, and he was making his first attempts at early morning crowing.
You may wonder why the noise came from the next room. Have I mentioned that the chicken babies are living in a glorious cardboard creation indoors, waiting for the weather to be warm enough for them to live with the chicken ladies outside? I think so, but I may not have been paying attention when I did.
We chuckled, finished our porridge and began packing the document pile into a bag. Today was the day!
Our solicitor, Ramon, had told us that we must go to the bank on Monday, to ask them to set up a talon afirmado and get a pile of cash ready for us to collect on Wednesday. We had done this, as instructed and without incident. "Come in any time Wednesday morning, and collect them. Ninguno problema. It will all be ready"
We decided that we would go as soon after the bank opened as we could. The notary appointment was fixed for 1pm, and we had arranged to meet Ramon and our interpreter at 12:30, about half an hour's drive away. We thought we would probably have time to come home for a cup of tea before setting off for the appointment, but you can never be too sure.
The bank had only two other customers waiting when we arrived, so we anticipated a wait of no more than twenty minutes or so. Then we would say what we had come for, Paco – my friendly contact who has our solicitor on speed dial – would rummage in his desk and come up with the cheque bancario and a wodge of cash, and off we would go.
Apparently, ordering these things two days in advance only means that somebody has written down what you are going to wait an hour for in two days' time. Paco's customer was there for the duration, so Loli served us. Slowly. She typed at her computer for a good four or five minutes after we had sat down, and made no move at all to ask us what we wanted.
Eventually, Paco got up from chatting with his customer and brought over the sheet of paper with his notes from Monday. He explained to Loli what we wanted, and headed back to his own desk.
In fairness, there are many expats who speak no Spanish, no matter how long they have been here, so Loli might have thought we couldn't tell her what we wanted, but why didn't she make eye contact and ask? Maybe we are too polite and should have spoken up, even though she was ignoring us while she stared intently at her computer screen, typing nineteen to the dozen.
Having established the reason for our visit, Loli then called our branch of the bank and checked if it was OK to give us our cheque and cash. I spent an uncomfortable few minutes, wondering what we could do at this late stage in the game if they refused permission. Wasn't this why we had asked two days ahead of time?   Fortunately, our branch were quite happy for us to have what we wanted, so it only took another forty five minutes of faffing and walking very slowly to and from the till at the other side of the room.
"Gracias!" I said, as Loli passed back each piece of documentation she had carefully verfied, photocopied and stamped.
"De nada!" she replied with an increasingly wide smile each time. I realised I was being very English. The Spanish are economical with their Ps and Qs, and nobody thinks twice about saying "Gimme a coffee" or taking their goods without a word of thanks.
"We English say thank you a lot, don't we?" I commented after the last document was stashed in my folder.
"Yes, but it's lovely. I like it," she replied.
All that was missing was the twelve thousand euros in cash we had been instructed to take with us to the Notary's office.
I should explain that one of the most striking things about the banks in Spain is that they have no security glass or grilles separating the customers from the staff. The tellers sit behind a counter, while the customers mill about, aware of who arrived before them, so they can move around and chat while they wait. In the same open area where the customers wait, there are simple office desks, at which more complex transactions are carried out with personal bankers. Piles of cash are counted and sorted on these desks, and astonishingly large amounts are handled where someone could just reach over and grab them. We were only going to collect twelve thousand euros in cash, but it had me slightly nervous all the same.
Loli strolled one last time to the tills, and came back with an envelope about an inch thick. I reached for it and stuffed it down my bra.
"Geoff wanted to put it in his trouser pocket, but I said 'no'" I explained. Loli laughed and wished us good luck with the house as we walked out of the bank. I hitched my jacket more firmly closed over my augmented frontage, and tried to look inconspicuous as we headed for the car.
By now, we only had enough time to make our way over to the Notary's office. We had arranged to meet Ramon half an hour before the appointment, in the bar opposite. Armed with a print out of a map of the town, we could not find the office, although we knew we were in the right area of side roads. We decided to park and find our way on foot.
More by luck than judgement, we spotted a likely bar, and I sidled over to the door opposite to read the small brass plate. Instead of the usual four names many officials here have on their doors – Jose Manuel Ortiz Martin, for example – this name went on forever. Enmanuel Eusebio Bil Bil Mandalejo.* Cuthbert Dibble and Grubb were missing, but I felt they were there in spirit.
We ordered some tapas and a couple of drinks and sat to wait for Ramon. He was more or less on time, and greeted us with enthusiasm.
"I've been working so hard for you. You would not believe it. Phone calls to the architect, visits to the Town Hall, calling the Land Registry, ay ay ay! It's been crazy. Almost impossible! The problems I have had, but I have worked very hard for you, and now everything is perfect!"
We glanced at each other, wondering how much extra a virtual miracle costs.
With a flourish, Ramon pulled out a pile of paperwork, shuffling the ashtray and napkin holder out of the way so he could spread everything on the table.
The smiling waitress was clearly used to her terrace being used as a solicitor's office. She slipped our drinks into the spaces between the piles of files and made herself scarce.
"You speak Spanish, OK?" he fired at me, grinning. It felt like a challenge, and we had wanted our trusty interpreter with us, but I smiled gamely and said, "A little, but slowly, please."
Faster than a speeding bullet we were dragged through Catastral records, receipts for cash, cheques and deposit slips, a new version of the contract with my name corrected for us to sign, passports, Residence certificates and almost everything the lovely Loli had been rifling through earlier.
"OK! Perfect! I am going over to the Notary now. You wait here. I know where you are." With another confident grin, Ramon disappeared, leaving us reeling slightly. I rearranged my jacket, feeling a little too hot, but unwilling to remove it.
An elderly lady with a shaggy dog and a story to match stopped at our table and engaged us in conversation for a while. It all felt slightly unreal. We were sitting in a little bar in a back street, trying to work out what day of the week it was and comparing Scottish and Andalucian weather and culture, while twelve grand in cash was burning a hole in my bosom and my jacket was making me break into a slight sweat.
Ten past one. No sign of Ramon, no sign of our interpreter or the estate agent or the seller. Fortunately, we have been in Spain long enough to know that there was no cause for panic.
We were contemplating ordering another drink when there was a flurry of activity. From behind me, our interpreter arrived.
"I've just been having a coffee with the vendor. I bumped into her on my way here. She'll be with us in a minute." I stifled a feeling of unease. There was no reason on earth why that should be a problem, but I have watched too many courtroom dramas where the case gets thrown out because someone has fraternised with someone on the other side of the case.
Ramon reappeared, just in time to greet the interpreter, the estate agent and the vendor,who were arriving amidst hurried pulling up of extra chairs and rapid introductions.
As we were now only running twenty minutes behind schedule, more coffees were ordered and we all sat around, holding various conversations. Ramon regaled the vendor and the estate agent with tales of the impossibility of the task he had superhumanly completed, while the interpreter tried to ask him questions he was too excited to address.
"The Notary says it is amazing that I have managed to pull it off. This was almost impossible, and he says we are incredibly lucky!"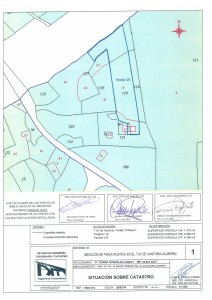 The vendor pulled out a file of photographs of the boundaries of the land we were buying. In each one, a figure looking very much like one of the Blues Brothers was pointing to a fence post, a pile of stones, a significant tuft of grass. His shiny shoes and dark glasses seemed most incongruous. Don Corleone playing an unlikely 'lovely assistant' to the photographer.
I had a moment or two of anxiety when she ripped two of the photographs out. "Those are of the bit the neighbours disputed, so you won't be needing those. You know how these elderly Spanish are," she announced airily. A rapid exchange with Ramon followed, in which she explained the circumstances of the missing photographs, and he gravely tucked the file in with the others he had stacked in front of him.
By now it was approaching two o'clock. The Notary's office is supposed to close at two.
"Venga! Let's go sign!" Ramon leaped to his feet and started off over the road.
"Please insist he lets me translate," asked our interpreter. "He can be a bit forceful at times."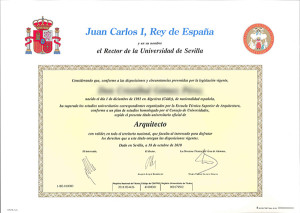 We were ushered into a room lined with files of legal – looking things, and seated in front of an impressive desk. The Spanish know how to do impressive desks. And impressive certificates. Embellished with curlicues and flourishes, certificates line the walls of the dentist, the doctor, the vet, the optician. Coats of arms of colleges and legal societies, grandiose wording and ludicrous superlatives declare that you are putting your life in the hands of the man who has been awarded his certification by the Most Exalted and Illustrious Don Somebody Extremely Special. It is all very intimidating until you notice that one of the certificates is for completing a two-day course in Excel Spreadsheets and Microsoft Word.
The Notary made his entrance. He was refreshingly un-pompous, and dressed in dark trousers and a polo shirt. He greeted us all warmly and waited while our translator went through the sheaf of papers before us, explaining what the various sections were about.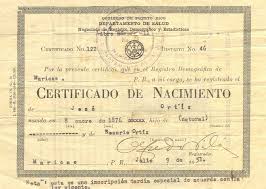 He rifled through the documents in front of him, pausing when he got to the file of boundary photographs.
"I had forgotten all about doing these!" He grinned at the seller. It seems that when he is not in his office, conducting business in a polo shirt, he tramps around orange groves, dressed as a mobster and pointing at things.
Two errors were apparent on the first page. We were described as non-resident, and somehow already living in the house that we were about to buy. There was a slight flurry of "Not important. Doesn't matter" around the table, but we were not happy. We felt we should insist this legal document reflect the correct information. I anticipated the offending page being removed to a typing pool, a delay and then resuming the proceedings when it had been corrected. Feeling that we were being rather troublesome, I cut across the Notary reading the document through to us.
"I'm sorry," I said. This isn't correct. I pointed to the paragraph. "We are resident, and that is not our address."
He glanced at our interpreter, who confirmed that he had heard right, and that we wanted the document altered.
"No problem!" He whipped out his fountain pen, crossed out the 'not' in 'not resident' and scrawled our correct address over the top of the incorrect one.
There seemed to be no further reason not to sign.
"Have you got some other business to attend to?"
"Yes, she's got it with her"
"OK. I'll go and do something else. Tell me when you are ready."
The Notary walked out of the room.
"He can't be here when you hand over the cash. You do have it, don't you?"
Feeling rather furtive, I handed over the envelope. The seller counted the money meticulously into piles, handed some to the estate agent and tucked the rest into her handbag.
I removed my jacket and the Notary reappeared. It all seemed rather farcical, but we remembered something similar happening when we bought our house when we first came to Spain.
We signed the documents the Notary put in front of us, the estate agent passed us a key on a pink plastic fob, and the seller handed us another key from her pocket.
The Notary beamed.
"Felicidades! Congratulations! You own the house."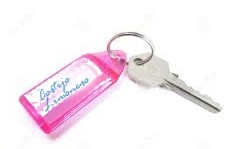 *Names have been changed to protect the innocent