We had some excellent news this week. While it marks the end of something very rewarding, it is also an opportunity to start on something new and exciting, which is always good.
A few months ago, I got involved with the Fish and Chip Baby Appeal, and had great fun making dozens of tiny jumpers and hats for premature and newborn babies in Africa, many of whom had AIDS and were not expected to live for very long. A whole crowd of knitters in our area got involved, and we have sent off hundreds of outfits in all sorts of colours and patterns.
Our friends up the Almeria area set up a website, and we started a Facebook group to help everyone keep in touch and up to date with what was going on.
Then this week, we got the news. The people who take our knitting to Africa have seen such an improvement in the situation that fewer of the babies are being born with AIDS. As the life expectancy of the babies improves, there is an increased need for warm clothing for toddlers and older children. It is a lovely new problem to be addressing.
 As more babies are well enough to live at home with their families, the need for blankets to wrap them in grows.The blankets double up as slings in which the mothers carry the babies on their backs.
Packs are being put together, and are used as part of a scheme to improve antenatal care and education in some of the poorest communities in Africa. Mothers-to-be are encouraged to come along to clinics for regular checks during pregnancy, and at the last appointment, they are given a pack containing some clothing, a few basics that will help in a home delivery, a knitted teddy and a blanket.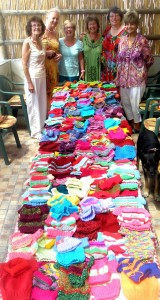 I have been thrilled by the response to the original appeal. Finding so many people willing to use their time and talents to help has been immensely heartening. Seeing the piles of tiny garments and knowing that they will change the lives of people we shall never meet has been incredibly moving.
As the appeal moves into a new phase, there is scope for even more people to be involved.
Those who were not confident that they could knit a jumper or a hat will be able to knit 6" squares to be made into blankets. Those who prefer to crochet will be able to join in. Anyone who likes the idea of knitting a tiny teddy can follow the simple pattern that can be downloaded from the Greenfields website. Larger garments will also be gratefully received, so those who are able to manage larger items can exercise their creativity making cardigans and jumpers. I am hoping to upload a simple pattern that I used to make jumpers for my own children to the Facebook group page soon.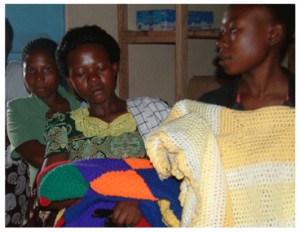 There is also a need for cotton vests and babygros, so we are hoping that those who don't knit or crochet will feel inspired to donate those, and there is always a need for donations toward the cost of transporting the various items to Africa.
We shall be keeping the Knit for Africa website and the Facebook group up to date, so that anyone who wants to get involved can find the latest information.
Meanwhile, I have just finished my first blanket square, and my fingers are itching to get started on the next.