I've been a bit quiet this week. Of course, I knew that at some point I would find that I had little to say, and I would face the famous writer's block, but this week I have
been unreasonably tired, dropping off at odd times during the day, huddling into my warmest cardigan and just feeling somehow not right. Maybe it is the change in the weather, or maybe I am fighting off some dire lurgy.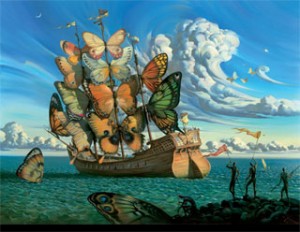 At night, I lie awake, with a million thoughts buzzing around my head, unable to sleep, but unable to make any sense of wave upon wave of unconnected ideas. I wonder how I shall ever get past this huge wall of random impressions and write anything even vaguely coherent? There are images flying around like a very bad display by the Red Arrows, zipping past my mind's eye, narrowly missing each other as they wheel and spin, looping the loop and pulling out of near stalls. When I try to focus on any one of them, it disappears into the wide beyond, leaving just a frustrating trail of red, white or blue smoke.
Oppressed by a lack of achievement by day and mental chaos by night, I decided that I should try to put this excess nocturnal thinking to good use. Helpful hints about keeping a notepad by the bed seemed to suggest that some amazing breakthroughs could come out of the nighttime world of loosened mental processes.
The idea of the chemical transmission of nerve impulses was postulated by a guy who later won a Nobel Prize for it. He had spent seventeen years, frustrated by his inability to prove his groundbreaking idea, when he had the dream that made sense of everything.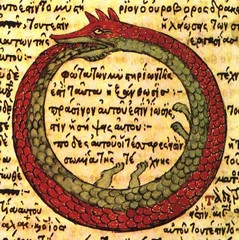 Friedrich August Kekulé von Stradonitz, that well-known doyen of organic chemistry, made some of his greatest breakthroughs because of dreams. The structure of benzene was revealed to him as he dreamed of a snake eating its own tail.
Elias Howe, possibly a relation, dreamed of tribesmen with spears with holes near the tips, and somehow incorporated the idea in his invention of a sewing machine.
Another dreamer who caught my eye had dreams of fossilised fish. Being an inefficient dreamer, it took him three nights before he managed to grab a paper and pen and sketch the fish he saw in his dreams. Without him, the world of fossilised fish would still be a glimmer in a mad scientist's eye, rather than the thriving branch of ichthyology it is today.
Clearly, some dreamers just need a little imagination to enable them to apply their dreams usefully. It also seems that people who have the most useful dreams have at least a spattering of knowledge and some ability in their particular spheres. The dreams that prove hugely significant are somehow knitted out of various threads that are already there – a kind of mental macramé, using ostensibly disparate strands to make an attractive potholder or atomic bomb.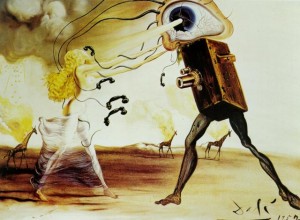 Unfortunately, although I have vivid dreams, I cannot work out how oranges hung on coat hooks just below ceiling height are going to solve the problem of world peace, nor how swimming with David Attenborough and a shoal of piranha is relevant to balancing the household budget. I am clearly not in the same league as the dreamers who feature on Internet lists.
Not all dreamers have entirely useful or pleasant dreams. Apparently, Frankenstein came to Mary Shelley in a dream, and Abraham Lincoln, poor man, dreamed about his assassination, before it happened (obviously.) He was somewhat upset by the experience.
I should definitely bear this in mind. I am, after all, one who has had frenzied dreams of being pursued around a building site by a large, scary man in a kilt, playing the bagpipes and accompanied by a huge, slavering wolf. The dread that drove me to blunder wildly through the forest of scaffolding poles was so intense that I can still feel a shadow of it now, several years later.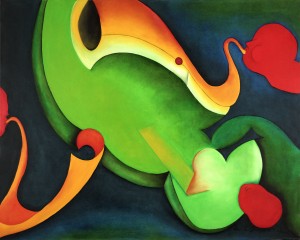 I once heard that Yesterday came to Paul McCartney in a dream. For some reason, any song or poem that I dream of, no matter how brilliant while I am asleep, turns out to be a complete turkey in the cold light of day. Dream recipes that had gourmets weeping with delight turn out to be nightmare concoctions that would have the same gourmets retching with disgust. Kipper and marshmallow sorbet, anyone? Maybe this is why Macca is rolling around in wads of money, while I merely wallow in a head full of gunge.
I am coming to the conclusion that fishing in the mysterious deeps of my subconscious is not necessarily the best of plans. Better, I think, to dose myself with honey and lemon, let the feverish thoughts chase each other around until they wear themselves out, and get on with the blog when I am back to what passes for normal in my little universe.