Looking back at photographs of the house when we first viewed it is an interesting exercise. Seeing dirt floors and daylight through the walls upstairs, where there are now spacious and comfortable bedrooms and bathrooms shows us just how much things have changed.
One of my favourite parts of the house is the little courtyard behind the kitchen. When we bought the place, this area was a patch of weeds between two small, semi-derelict stone and brick barns. Rubbish and weeds filled most of the space. An old vine was barely surviving in one corner and an ancient bicycle, minus a saddle, was propped in another.
Jose Manuel, our builder, recommended that we tile the courtyard and have drainage installed, so that if we had heavy rain it would not fill up and flood into the kitchen. We thought that sounded good advice and it certainly proved to have been so when we had heavy rainfall this last winter.
Half the walls surrounding the courtyard are old, beautiful stone. The other half were rendered and painted white during the renovations. It looked a great deal tidier and the new rejas dressed the windows up a treat.
The vine recovered quite well, considering the years of neglect and then the shock hacking it had endured during the building works. Last year it sprouted well, but did not bear any fruit. Even without grapes to encourage them, the flies and wasps arrived in huge herds and made it impossible to eat out there. We decided we would try to think of a way to screen the area and make it a fly free haven for the future.
In mid February, our friend Clem, who is a whiz at such things, spent a couple of days fitting a substantial wooden frame 'ceiling' clad with fly netting. The courtyard immediately felt as if it had taken a huge step toward being a lovely place to eat out in the summer.
The addition of various thin wires strung between the beams gave the vine something to grow along. Although it was still mostly bare and brown at this stage, we knew that once the sap starts to rise, the growth is rapid and extremely vigorous.
The wall under the downstairs bedroom window has trouble with damp. Most old Spanish buildings do not have damp proof courses, and old barns built of stones, mud, broken bricks and whatever came to hand certainly do not! Every time I painted this wall, the paint bubbled and flaked off within weeks. I even tried Chalk Paint, in the hope that it would be breathable and the wall would stay painted. I have to report that it did not work any better than any of the other paints. It was a shame that the peeling paint detracted from the courtyard's charm, but repainting numerous times each year was tiresome and impractical.
Geoff was away for a few days at the end of February and I decided I would try to come up with a surprise solution to the problem by the time he came back.
If there were a way to paint only the lower part of the wall it would save some of the hassle and expense. I considered painting the lower half in a colour, so that the difference in shades of white would not be an issue, but the idea did not really appeal. In any case, the wall would still need to be repainted several times each year.
I pondered over several cups of tea. I pondered in the wee small hours and then I pondered again over more cups of tea in the morning. Eventually an idea began to take form: what if I only painted sparingly below the line, so that most of the wall could breathe?
More cups of tea and some metaphorical beard scratching later, I had a plan. By this time it was mid afternoon a day and a half before Geoff was due home.
I decided to try to paint a sort of trompe l'oeil mural of old, traditional tiling, to reflect the style of the tiling in the kitchen and hall. If the mural looked old, bits of paint flaking off would look in keeping. If I only painted vertical stripes of colour on the lower parts, there would be plenty of wall left for water to do its worst without affecting anything.
I grabbed a reel of masking tape and all the tins of chalk paints in various colours I could find. My stash of artists' acrylics could be called upon for back-up, but I was not sure how breathable they would be.
Much masking tape and sponging skullduggery later I had the beginnings of a mural taking shape. I had to take a break overnight, but I used the evening hours to sketch and devise a design similar to but far simpler than the tiling in the kitchen.
I don't know how I managed to get to such an advanced age and never have done potato printing. I considered stencilling (which I had also never done,) but decided the informality and required materials of potato printing made it a more appealing option.
I slept well and dreamed of paint and potatoes.
Carving my intricate design out of a potato with a scalpel was quite a palaver, but on the whole, the process was remarkably stress free. By the end of the day I had a rather pleasing mural done. It needed just a couple of slight tweaks, and once they were completed, I was glad I had taken the plunge.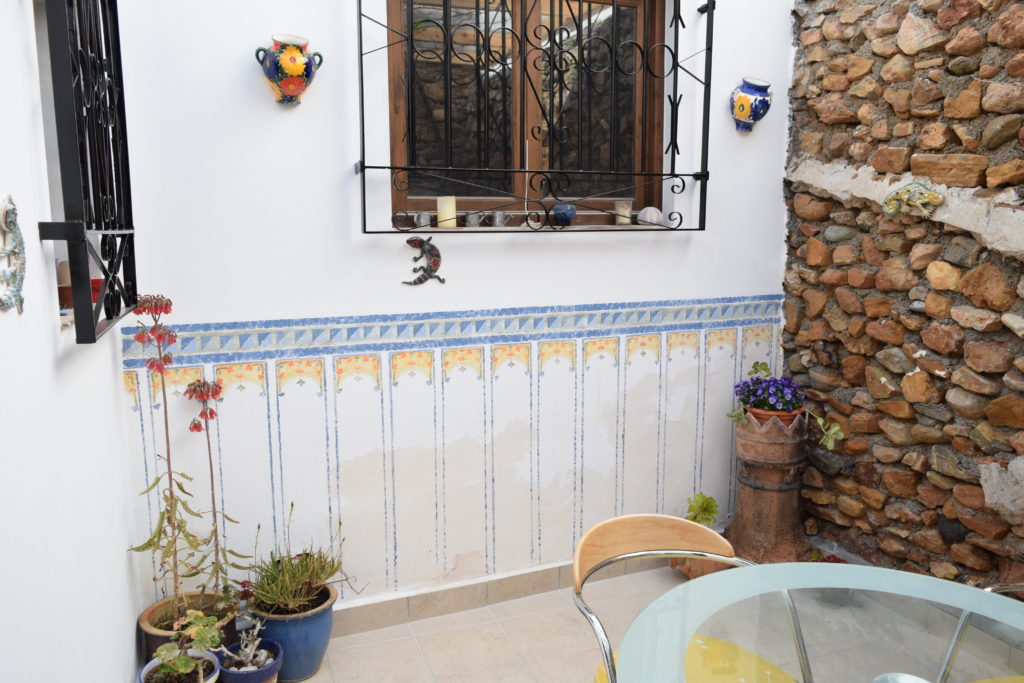 Fortunately, Geoff loved the mural.
With the addition of a gorgeous old chimney pot and plants and containers bought with my birthday money, we only needed the vine to come into leaf and some guests to share our lovely new space.